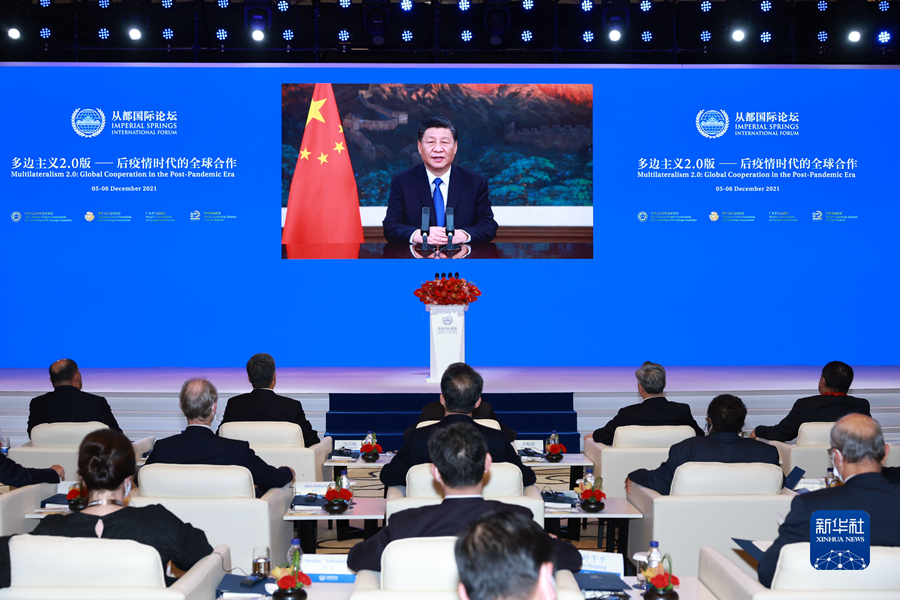 On December 5th, Chinese president Xi Jinping delivered a video speech on the opening ceremony of the "2021 Imperial Springs International Forum".
Xi Jinping stressed that in the world, people are facing multiple crisis. To deal with continuously-emerging global problems and challenges, we need to stick to opening-up, inclusiveness, negotiation, cooperation, multilateralism and human community with a shared future.
--We need to work together to implement real multilateralism. The key to the multilateralism is to deal with international affairs by negotiation and to decide the future of the world by all countries. We need to safeguard the international system with the UN as it's core, the international order with the international law as the basis and the basic rule of the international relation with the mission and principles of the UN Charter as the foundation, so as to promote the common value of all human, including peace, development, fairness, justice, democracy and freedom.
--We will keep up with time and improve the global governance system. We need to consider the change of the global structure and reform and improve the global governance system on the basis of extensive consultation and consensus. We should go in line with the tendency to make the international relation more democratic; enable the developing countries to be more representative and have more say in the international affairs and enable the international governance system to be more fair and reasonable.
--We need to take action and implement the global cooperation agenda. I have brought up the global development agenda and the global community with a shared future, which I hope all parties will participate. Cooperation should be enhanced in many fields, including prioritizing development, poverty alleviation, pandemic control and vaccine, development and funding, green transformation, interconnectivity and so on, so as to improve the global development to a new stage of balance, coordination and inclusiveness.
Xi Jinping stressed that one of the important historical experience of the 100-year struggle of the CPC is that it should always care the future and the fate of all human. China is determined to support multilateralism. Precisely, it will safeguard the core value and basic principles of multilateralism; encourage win-win cooperation; stick to shelving off difference while finding common ground; uphold fairness and justice and stick to cooperation and development, so as to contribute wisdom and strength to the progress of human civilization.