The Most Beautiful China--Global Envoys Step into Qian Gorlos ·Jilin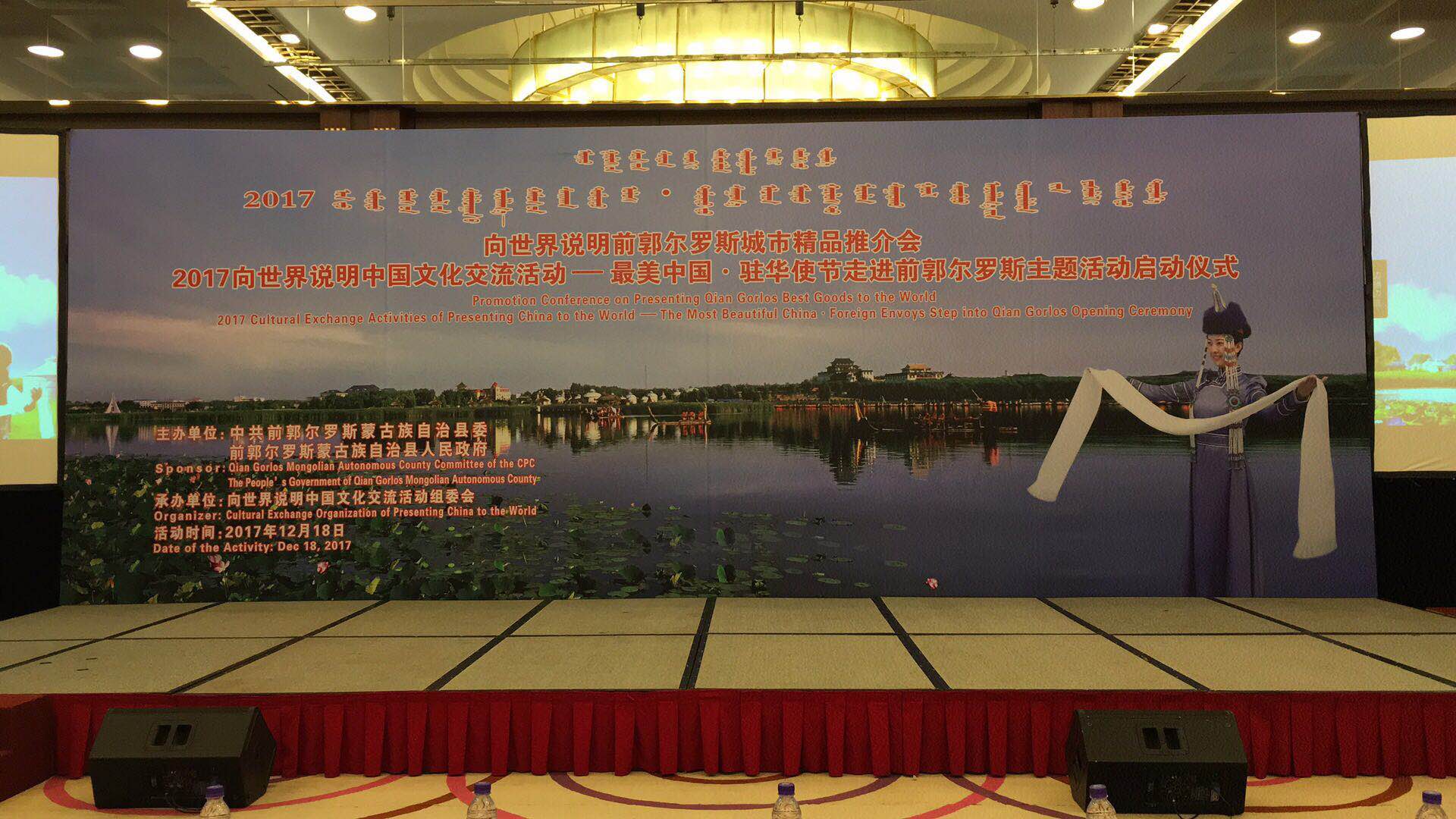 Cultural Exchange Activities of Presenting China to the World--The Most Beautiful China Series Activities of Stepping into Qian Gorlos·Jilin
Qian Gorlos is located in the northeastern three provinces and the center of Mongolian area. From China's map, it's at the eyes place of rooster and the transport hub and major city in the northeastern China. There are affluent resources and sound ecology, as well as a unique scenery of thousands of acres of golden corns and grassland landscape. It's the only international green industry demonstration area, national major base of commodity grain, national greening and afforestation top hundred county, nation-class base of grassland, and the base of fine-breed fine-wool sheep in Jilin province.
Chagan lake is well-known around the world for its pure white, and awarded as 5A level tourism resorts, national level natural conservation, and national irrigation scenic spots. Green development philosophy has been a common sense of the people of Qian Gorlos in a new era. Arriving at this place, you will have a chance to taste Chagan big head fish, which has obtained National AA level certificates for green food and Organic food, and its good rice designated for G20 Hangzhou Summit and BRICs Leaders Meeting in Xiamen. It has a long history and profound culture, with 100 various ancient relic sites and 127 items intangible cultural heritages, and 8 Ulger and other national level intangible cultural heritages. Qian Gorlos is named as the hometown of China's folk customs, the hometown of China's Morin khuur and the hometown of Mongolian a four-stringed instrument. It has created and kept two Guinness world record "Morin khuur Ensemble" and "fishing under ice with a single net, forming a much-anticipated "Qian Gorlos cultural phenomenon".
Arriving at this place, you will have a chance to see the highest Genghis khan statue in the world, which has been a golden card for Qian Gorlos. In this place, there are strong folk custom, picturesque natural scenery, and pristine Mongolian traditional fishing methods over thousands of years. The rite of "offering sacrifice to lake and wakening the net" full of religious colors has passed down so far, and "the magnificent fishing scenery on the icy lake" has been listed into "Jilin eight landscapes". Chagan Winter Fishing can be called a world wonder. Arriving at this place, vast grassland will make you emotional and blue sky will make you relaxed and happy, and the white flocks of sheep will make you yearning for the heaven. You will have a chance to have a leisure walk in the alley and heard hospital and simon-pure northeastern dialect. Besides, you will have a chance to taste unique Mongolian cuisine, and watch humorous song and dance duet. All these places in which we can eat, play, watch, travel and have pleasure will give you a worthy trip.