The Most Beautiful China -- A Trip to China·DuJiangyan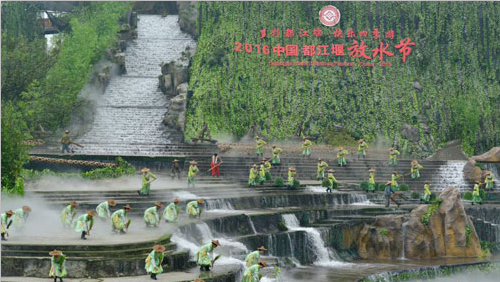 "Cultural Exchange Activities of Presenting China to the World" -- "The Most Beautiful China" Series Activities of Visiting Dujiangyan
Visiting Dujiangyan to appreciate its magnificent water irrigation system and climbing Qingcheng Mountain to worship Chinese Taoism. From April 3 to 4, 2016, Cultural Exchange Organization of Presenting China to the World launched the series activity of "The Most Beautiful China" themed as "Inherited for Thousands of Years·Shared by the Whole World", as well as invited 30 international social media representatives to go into Dujiangyan to take part in "2016 China·Dujiangyan Water-Releasing Festival".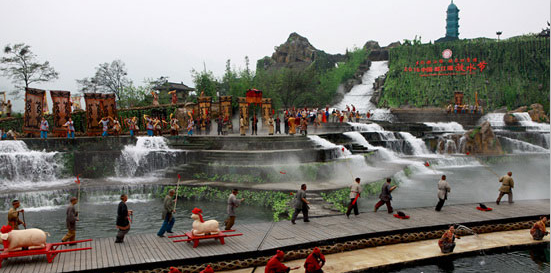 The 2016 Dujiangyan Water-Releasing Festival brought in more international elements to promote guests from home and abroad to gain an in-depth understanding of this traditional Chinese culture which inherited for over a thousand years and to draw more attention to it. The water-releasing ceremony was broadcast live on the Internet in ten languages to 9 countries including Britain, America, France, German, Russia, Portugal, Korea, etc, to ensure netizens all over the world could enjoy the ceremony with live audiences at the same time. Furthermore, 30 international social media representatives who come from America, Britain, France, Japan, Malaysia and other countries and regions were introduced to have an in-depth visit and experience to Qingcheng Mountain, Dujiangyan tourism district and other scenic spots. Among them, eight were selected as "Global Disseminators of Chinese Most Beautiful Tourism Corridor and Dujiangyan Tourism District", and were awarded right at the ceremony. Many foreign visitors were also invited to the ceremony, who acted as workers to participate in the water-releasing activity -- removing Macha (a triangle wooden barrier) -- to have a hand-on experience of Chinese ancient water-control culture.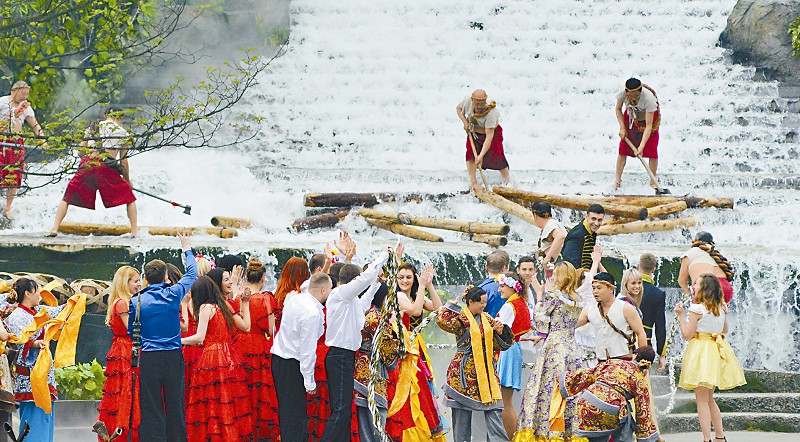 This year, the water-releasing ceremony was broadcast live on LED advertising screens at New York Times Square in America and Gwanghwamun Square in Korea as well, at the aim of presenting Chinese ancient water-control culture, which shows the harmony between man and nature and follows the rules of nature, to the world further making Dujiangyan Water-releasing Festival an international tourism brand.
The outdoors LED screen in New York Times Square is known as the most influential publicity window in America. It is, therefore, a weathervane for the mainstream of Western society in a sense. In the eyes of westerners, the image of water-releasing activity filled with rich oriental culture and legendary flavor, is certainly one of the core elements of oriental culture, which exerts the most powerful visual impact on them. The ceremony was also to be broadcast on the LED advertising screen of Dong-A Ilbo, one of the most popular advertising screen in Korea installed in Gwanghwamun Square. The responsible person who decided to broadcast the ceremony live said that Korea and China share the same root of East Asian culture and have strong ties with each other. The Water-Releasing Festival, originated from western China with thousands of years history, is worthy of the quintessence of East Asian Intangible Culture. The Dujiangyan Water-Releasing Ceremony presents a wonderful scene of Chinese ancient water-control culture through impressive live-action performance, which cannot be seen very often. It is an important element that the majority group of Eastern countries would pay close attention to.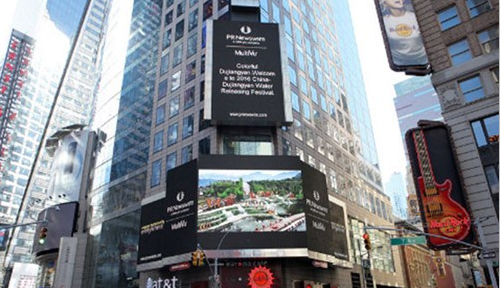 As it turns out, the broadcast live on LED advertising screens, which presented Chinese culture and the colorful beauty of Dujiangyan to tourists from all over the wold, received a good response and attracted more tourists to visit Dujiangyan.
Situated in Northwestern Chengdu, Dujiangyan City is famous for the Dujiangyan irrigation system. It has over 2,000 years history and gains the fame of International well-known tourist city due to its weir. Dujiangyan has a profound history and splendid civilization and in possession of a galaxy of advanced culture and talents, a beautiful eco-environment, an obvious regional advantage and unique tourist resources. It is a time-honored city, surrounded by mountains and rivers, drawing a picture of an integration of city and nature. It is also a famous tourist destination, renowned at home and abroad, enjoying exceptional natural resources and irreplaceable historical and cultural resources. The Dujiangyan irrigation system, being praised as "the originator of the world's water irrigation culture", was founded in here and has been using till today. Chinese Taoism originates from Qingcheng Mountain, which is described as "the most secluded and beautiful place" in an ancient Chinese poetry. It is an important part of the world's natural heritage -- Sichuan Giant Panda Habitat and the location of Dujiangyan National Forest Park. Dujiangyan was taken as "the originator of the world's water irrigation culture", "the cradle of water culture", "the living water conservancy museum", "Chinese famous historical and cultural city", "the most secluded and beautiful place -- Qingcheng Mountain", and has won many reputations, such as "China Habitat Environment Award", "the Dubai International Award for Best Practices", "Chinese Excellent Tourism City", "National Scenic Spots and Historical Sites", "Nationally Designated Eco-Demonstration Region", "Nationally Designated Garden City", "China Top Attractive City", "the City of Longevity" and so on.
The Dujiangyan irrigation system is listed in the World Cultural Heritage, the Major National Historical and Cultural Sites, National Scenic Spots and Historical Sites and National 5A Scenic Spot, which was built in the last years of King Zhaoxiang of Qin. The prefect of Shu (the ancient Sichuan) Li Bing and his son engineered the Dujiangyan irrigation system based on Bieling's work (Bieling: the emperor of the ancient Shu). The Dujiangyan irrigation system, composed of Fenshuiyuzui (a fish-shaped barrier to divide the water), Feishayan (a spillway to prevent Chengdu Plain from flood) and Baopingkou (a vase-shaped channel to control the water flow), has been playing the role in flood prevention and irrigation over two thousand years and has won the province the reputation of "the land of abundance". The irrigated region has reached over 30 counties and cities to this day, accounting for ten millions mu. Up to now, it is the oldest irrigation system used diversion without dam technology in the world and has been using over thousands of years. It gathers the excellent qualities like diligence, courageousness and wisdom of Chinese ancient working people of Han Nationality.
The Water-Releasing Festival, held annually to commemorate its builder Li Bing and his son, is a traditional folk culture of Han Nationality in Dujiangyan City, the location of Dujiangyan irrigation system. In ancient times, people will use macha (a triangle wooden barrier) to temporarily control the water flow of Minjiang River every winter, dividing it into two streams that flows into inner river or outer river. Afterwards, they dig and repair the riverbed and reinforce the riverbank, which is called annual repair. When Qingming Festival arrived, a grand water-releasing ceremony will be held in commemoration of Li Bing and his son and to pray for bumper harvest and a peaceful and prosperous nation. During the ceremony, they will remove macha to let the water flow into inner river to irrigate the vast Chengdu Plain. It reflects the diligent working people's love, desire and pursuit to life. The Water-Releasing Festival reappears the long historical developing process of the farming culture in Chengdu Plain and the folk culture there, which embodies the excellent qualities of worshiping the sage and paying a debt of gratitude, and it has a practical significance of promoting traditional culture. Nowadays, the Dujiangyan irrigation system could release water at any time in the whole year. The ritual of releasing water in Qingming Festival, however, is still a memorable day to people of western Sichuan. As an ancient folk culture of Han Nationality and a tourist project with Sichuan characteristics, the removal of Macha activity in Water-Releasing Festival will be held as usual, which draws much attention to both Chinese and foreign tourists and guests.
In 2006, the Dujiangyan Water-Releasing Festival was included in the First National Intangible Cultural Heritage List. At present, Dujiangyan is making all-out efforts to do a good job in inheriting and protecting this festival, create a good atmosphere for the advance publicity of the application for the World Intangible Cultural Heritage and guide more international guests to go into Dujiangyan. Moreover, it actively seeks for a place in national "ready list" of the Representative List of the Intangible Cultural Heritage of Humanity so as to speed up the application for the World Intangible Cultural Heritage.